Jeffrey R. Di Leo
Publisher/Editor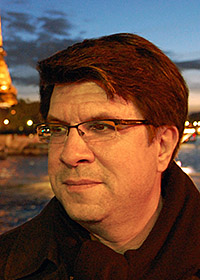 Jeffrey R. Di Leo has taught at Indiana University, Bloomington; Georgia Tech; and the University of Illinois at Chicago. Currently, he is Dean of the School of Arts & Sciences, and Professor of English and Philosophy at the University of Houston-Victoria. He is also Executive Director of the Society for Critical Exchange, and past president of the Southern Comparative Literature Association.
In addition to being editor and publisher of the American Book Review, Di Leo is founding editor of the journal symplokē , which was awarded the Phoenix Award for Significant Editorial Achievement (2000) and Best Special Issue Award (2012) by The Council of Editors of Learned Journals (CELJ).
Di Leo received his undergraduate education at Rutgers University, New Brunswick, and has a dual PhD in philosophy and comparative literature from Indiana University, Bloomington. His teaching and research interests include applied ethics, contemporary innovative literature, classical American philosophy, aesthetics, philosophy of language, and literary and cultural theory. The author of over 150 articles and reviews, Di Leo's publications include Morality Matters: Race, Class, and Gender in Applied Ethics (McGraw-Hill, 2002), Affiliations: Identity in Academic Culture (University of Nebraska Press, 2003), If Classrooms Matter: Progressive Visions of Educational Environments (Routledge, 2004; with Walter R. Jacobs), On Anthologies: Politics and Pedagogy (University of Nebraska Press, 2004), From Socrates to Cinema: An Introduction to Philosophy (McGraw Hill, 2005), Fiction's Present: Situating Contemporary Narrative Innovation (SUNY Press, 2007; with R.M. Berry), Federman's Fictions: Innovation, Theory, and the Holocaust (SUNY Press, 2010), Academia Degree Zero: Reconsidering the Politics of Higher Education (Paradigm, 2011), Neoliberalism, Education, Terrorism: Contemporary Dialogues (Paradigm, 2013; with Henry Giroux, Sophia McClennen, and Ken Saltman), Terror, Theory, and the Humanities (Open Humanities Press, 2012; with Uppinder Mehan), Corporate Humanities in Higher Education: Moving Beyond the Neoliberal Academy (Palgrave, 2013), Capital at the Brink: Overcoming the Destructive Legacies of Neoliberalism (Open Humanities Press, 2014; with Uppinder Mehan), Turning the Page: Book Culture in the Digital Age (Texas Review Press, 2014), and Criticism after Critique: Aesthetics, Literature, and the Political (Palgrave, 2014).
Selected Bibliography:

Morality Matters: Race, Class, and Gender in Applied Ethics (McGraw-Hill, 2002)
Affiliations: Identity in Academic Culture (University of Nebraska Press, 2003)
If Classrooms Matter: Progressive Visions of Educational Environments (Routledge, 2004; with Walter R. Jacobs)
On Anthologies: Politics and Pedagogy (University of Nebraska Press, 2004)
From Socrates to Cinema: An Introduction to Philosophy (McGraw Hill, 2005)
Fiction's Present: Situating Contemporary Narrative Innovation (SUNY Press, 2007; with R.M. Berry)
Federman's Fictions: Innovation, Theory, and the Holocaust (SUNY Press, 2010)
Academia Degree Zero: Reconsidering the Politics of Higher Education (Paradigm, 2011)
Neoliberalism, Education, Terrorism: Contemporary Dialogues (Paradigm, 2013; with Henry Giroux, Sophia McClennen, and Ken Saltman)
Terror, Theory, and the Humanities (Open Humanities Press, 2012; with Uppinder Mehan)
Corporate Humanities in Higher Education: Moving Beyond the Neoliberal Academy (Palgrave, 2013)
Capital at the Brink: Overcoming the Destructive Legacies of Neoliberalism (Open Humanities Press, 2014; with Uppinder Mehan)
Turning the Page: Book Culture in the Digital Age (Texas Review Press, 2014)
Criticism after Critique: Aesthetics, Literature, and the Political (Palgrave, 2014)
The New Public Intellectual: Politics, Theory, and the Public Sphere (Palgrave Macmillan, 2016; with Peter Hitchcock)
Dead Theory: Derrida, Death, and the Afterlife of Theory (Bloomsbury, 2016)
American Literature as World Literature (Bloomsbury, 2017)
Higher Education under Late Capitalism: Identity, Conduct, and the Neoliberal Condition (Palgrave Macmillan, 2017)
Editors
Founder: Ronald Sukenick
Publisher: Jeffrey R. Di Leo
Editor: Jeffrey R. Di Leo
Managing Editor: Jeffrey A. Sartain
Assistant Editor: Lauren Pirosko
Publisher Emeritus: Charles B. Harris
Associate Editors: Charles Alexander, Mark Amerika, R.M. Berry, Dagoberto Gilb, C. S. Giscombe, Dinda L. Gorlée, Charles Johnson, Cris Mazza, Larry McCaffery, Christina Milletti, Doug Nufer, Kevin Prufer, John Tytell, Barry Wallenstein, Tom Williams, Eric Miles Williamson
Contributing Editors: Rudolfo Anaya, Ron Arias, John Ashbery, Michael Bérubé, Rosellen Brown, Andrei Codrescu, William Demby, Rikki Ducornet, William Gass, Joseph D. Haske, Russell Hoover, Steve Katz, Clarence Major, Carole Maso, Michael McClure, Joyce Carol Oates, Daniel T. O'Hara, Marjorie Perloff, Robert Peters, Corinne Robins, Charles Russell, Paul Schiavo, Barry Seiler, Charles Simic, Bruce Sterling, Regina Weinreich