John Ashbery
Contributing Editor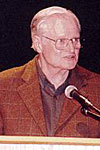 John Ashbery was born in Rochester, New York on 28 July 1927. He received a BA from Harvard (1949) and an MA from Columbia (1951), went to France as a Fulbright Scholar in 1955, and lived and worked there for most of the next decade.
Best known as a poet, he has published numerous collections, beginning in 1953 with
Turandot and Other Poems
(Tibor de Nagy Editions). His
Self-Portrait in a Convex Mirror
(Viking, 1975) won the three major American prizes: the Pulitzer, National Book Award, and National Book Critics Circle Award. His most recent volumes include
Your Name Here
(Farrar, Straus and Giroux, 2000),
Chinese Whispers
(FSG, 2002),
Where Shall I Wander
(Ecco/HarperCollins, 2005), and
A Worldly Country
(E/HC, 2007).
He began writing about art in 1957, serving as executive editor of
Art News
(1965-72), and art critic for
New York Magazine
(1978-80) and
Newsweek
(1980-85). A selection of his art writings was published by Knopf in 1989 as
Reported Sightings: Art Chronicles 1957-1987
, edited by David Bergman, and issued in paperback by Harvard University Press in 1991.
His novel
A Nest of Ninnies
, written with James Schuyler, was first published in 1969 (Dutton) and has been reissued several times. His collection
Three Plays
(Z Press, 1978) includes "The Heroes," which was first produced in New York by the Living Theater in 1952. Ashbery's numerous published translations from French include works by Raymond Roussel, Max Jacob, Alfred Jarry, Antonin Artaud, Pierre Reverdy, and two collections of poems by Pierre Martory,
Every Question But One
(1990) and
The Landscape Is Behind the Door
(1994). Many of Ashbery's essays on a variety of topics are included in his
Selected Prose
, edited by Eugene Richie (University of Michigan / Carcanet, 2004).
His work has been translated into more than twenty languages.
Ashbery was Professor of English and co-director of the MFA program in Creative Writing at Brooklyn College (CUNY), 1974-90, and Distinguished Professor 1980-90. He delivered the Charles Eliot Norton Lectures at Harvard in 1989-90, published as
Other Traditions
(Harvard Univ. Press, 2000). Since 1990, he has been the Charles P. Stevenson, Jr. Professor of Languages and Literature at Bard College in Annandale-on-Hudson, New York.
He was elected to membership in the American Academy of Arts and Letters (1980) and the American Academy of Arts and Sciences (1983), and served as Chancellor of the Academy of American Poets from 1988-99. The winner of many prizes and awards, he received two Guggenheim Fellowships and was a MacArthur Fellow from 1985-90. He holds honorary degrees from Southampton College of Long Island University, the University of Rochester (NY), Harvard University, and Pace University (NY). International recognition for outstanding career achievement includes the Horst Bienek Prize for Poetry (Bavarian Academy of Fine Arts, Munich, 1991), the Ruth Lilly Prize for Poetry (Poetry magazine, Modern Poetry Association and the American Council for the Arts, 1992), the Antonio Feltrinelli International Prize for Poetry (Accademia Nazionale dei Lincei, Rome, 1992), the Robert Frost Medal (Poetry Society of America, 1995), the Grand Prix de Biennales Internationales de Poésie (Brussels, 1996), the Gold Medal for Poetry (American Academy of Arts and Letters, 1997), the Walt Whitman Citation of Merit (State of New York and the New York State Writers Institute, 2000), the Signet Society Medal for Achievement in the Arts (Signet Associates, Harvard University, 2001), and the Wallace Stevens Award (Academy of American Poets, 2001); in 1993 he was made a Chevalier de l'Ordre des Arts et des Lettres by the French Ministry of Culture, and in 2002 he was named Officier of the Légion d'Honneur of the Republic of France by presidential decree; in 2006 he was elected to foreign membership in the Italian Accademia Nazionale dei Lincei.
Link: http://www.flowchartfoundation.org/arc/home
Selected Bibliography:
Can You Hear, Bird (1995)
And The Stars Were Shining (1994) Coventry (1993)
April Galleons : Poems (1987)
As We Know : Poems (1979)
Europa (1971)
The Double Dream of Spring (1970)
Editors
Publisher: Jeffrey R. Di Leo
Editor: Jeffrey R. Di Leo
Managing Editor: Jeffrey A. Sartain
Assistant Editor: JJ Hernandez
Past Publishers: Ronald Sukenick, Charles B. Harris
Associate Editors: Frederick Luis Aldama, Mark Amerika, R.M. Berry, Christine Hume, Charles Johnson, Anthony Madrid, Cris Mazza, Gina M. MacKenzie, Christina Milletti, Doug Nufer, John Tytell, Barry Wallenstein, Tom Williams
Contributing Editors: Charles Alexander, Rudolfo Anaya, Ron Arias, Michael Bérubé, Rosellen Brown, Andrei Codrescu, Rikki Ducornet, Dagoberto Gilb, C.S Giscombe, Joseph D. Haske, Russell Hoover, Steve Katz, Clarence Major, Carole Maso, Larry McCaffery, Michael McClure, Joyce Carol Oates, Daniel T. O'Hara, Marjorie Perloff, Robert Peters, Corinne Robins, Charles Russell, Paul Schiavo, Barry Seiler, Charles Simic, Bruce Sterling, Regina Weinreich Eric Miles Williamson