William Gass
Contributing Editor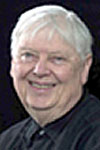 William Gass is a novelist, essayist, philosopher, and teacher. Gass, whose books include
Cartesian Sonata, The Tunnel,
and
Omensetter's Luck,
received the Lannan Lifetime Achievement Award in 1997.
A native of the Midwest, Gass is Professor Emeritus of Humanities at Washington University in St. Louis where he taught for over 30 years. His writing career began in 1959 with the publication of several short stories. In 1966 came his first novel,
Omensetter's Luck,
about life in an Ohio small town in the 1890s. Two years later he published
In the Heart of the Heart of the Country
, five stories dramatizing the theme of human isolation and the difficulty of love. Soon after came
Willie Masters' Lonesome Wife
, an experimental novella illustrated with photographs and typographical constructs intended to help readers free themselves from the linear conventions of narrative. His latest work,
Tests of Time,
is a collection of essays on topics such as experimental fiction, the fatwa against Salmon Rushdie, worship and religion, and Flaubert.
Selected Bibliography:
Omensetter's Luck
Willie Masters' Lonesome Wife
Tests of Time
Editors
Founder: Ronald Sukenick
Publisher: Jeffrey R. Di Leo
Editor: Jeffrey R. Di Leo
Managing Editor: Jeffrey A. Sartain
Assistant Editor: Lauren Pirosko
Publisher Emeritus: Charles B. Harris
Associate Editors: Charles Alexander, Mark Amerika, R.M. Berry, Dagoberto Gilb, C. S. Giscombe, Charles Johnson, Cris Mazza, Larry McCaffery, Christina Milletti, Doug Nufer, Kevin Prufer, John Tytell, Barry Wallenstein, Tom Williams, Eric Miles Williamson
Contributing Editors: Rudolfo Anaya, Ron Arias, John Ashbery, Michael Bérubé, Rosellen Brown, Andrei Codrescu, William Demby, Rikki Ducornet, William Gass, Joseph D. Haske, Russell Hoover, Steve Katz, Clarence Major, Carole Maso, Michael McClure, Joyce Carol Oates, Daniel T. O'Hara, Marjorie Perloff, Robert Peters, Corinne Robins, Charles Russell, Paul Schiavo, Barry Seiler, Charles Simic, Bruce Sterling, Regina Weinreich