UHV/ABR READING SERIES
DATE: Wednesday 2/11/2015
TIME: Noon to 1:00 p.m.
PLACE: University of Houston-Victoria, Alcorn Auditorium (UW 204)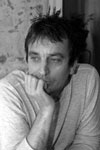 VIDEO
SPEAKER: Nick Flynn
Flynn is a writer, playwright and poet whose most recent publication is The Reenactments, which recounts his experience during the making of the film Being Flynn. The film, starring Robert De Niro, is an adaptation of Flynn's acclaimed 2004 memoir, Another Bullshit Night in Suck City. Flynn also won the PEN/Joyce Osterweil Award for Poetry for his collection of poetry Some Ether..
SELECTED BIBLIOGRAPHY:

Some Ether: Poems (2000)
Blind Huber: Poems (2002)
The Captain Asks for a Show of Hands (2011)
Another Bullshit Night in Suck City: A Memoir (2004)
The Ticking Is the Bomb: A Memoir (2010)
The Reenactments: A Memoir (2013)
A Note Slipped Under the Door: Teaching from Poems We Love (2000, co-authored with Shirley McPhillips)
Alice Invents a Little Game and Alice Always Wins: A Play (2008)
Crossroads (2001, with Josh Neufeld)