UHV/ABR READING SERIES
DATE: Thursday 4/2/2015
TIME: Noon to 1:00 p.m.
PLACE: University of Houston-Victoria, Alcorn Auditorium (UW 204)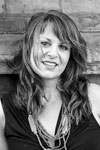 VIDEO
SPEAKER: Megan Kruse
Kruse's creative writing has appeared in various magazines such as Narrative Magazine, The Sun, Thumbnail Magazine and many others. Kruse received nominations for the Pushcart Prize in 2005, 2006 and 2011. Her short story, "Dollywood," is one of 100 Other Distinguished Stories listed in Best American Short Stories 2011. Her first novel, Call Me Home, will be released in March 2015.
SELECTED BIBLIOGRAPHY:

Call Me Home
Portland Noir