UHV/ABR READING SERIES
DATE: Thursday 4/28/2016
TIME: Noon to 1:00 p.m.
PLACE: University of Houston-Victoria, Alcorn Auditorium (UW 204)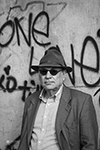 VIDEO
SPEAKER: Charles Bernstein
Charles Bernstein's Pitch of Poetry, new essays, will be out this Spring from University of Chicago Press. His most recent book of poems is Recalculating (Chicago, 2013). He is Donald T. Regan Professor of English and Comparative Literature at the University of Pennsylvania, where he is co-director of PennSound. In 2015 Bernstein was awarded both the Münster Prize for International Poetry and Janus Pannonius Grand Prize for Poetry.
https://www.english.upenn.edu/people/charles-bernstein
SELECTED BIBLIOGRAPHY:

Full-length collections
Recalculating (2013)
All the Whiskey in Heaven (2010)
Girly Man (2006)
Shadowtime (libretto for an opera with music by Brian Ferneyhough) (2005)
With Strings (2001)
Republics of Reality: 1975-1995 (2000)
Dark City (1994)
Rough Trades (1991)
The Sophist (1987)
Islets/Irritations (1983)
The Nude Formalism, with Susan Bee (1989)
Controlling Interests (1980)
L E G E N D, with Bruce Andrews, Steve McCaffery, Ron Silliman, Ray DiPalma (1980)
Poetic Justice (1979)
Shade (1978)
Parsing (1976)
Asylums (1975)
Essays
Attack of the Difficult Poems (2011)
My Way: Speeches and Poems (1999)
A Poetics (1992)
Content's Dream: Essays 1975-1984 (1986)
A Conversation with David Antin (2002)